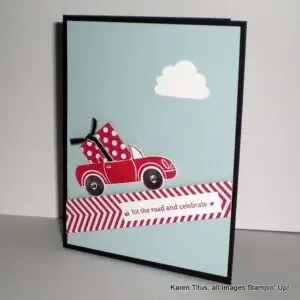 Looking for a fun birthday card to give someone who loves sports cars or traveling? This Road to Happiness stamp set is a perfect fit.
This set has five other word choices and plenty of stamps for things to fit in the car including a bride and groom, surf board, guitar, and hearts so this is a great set for making all occasions greeting cards!
Before I share the products used…..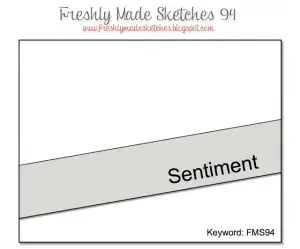 this is the Freshly Made Sketches 94 that was my inspiration! Look how simple that is.
I immediately saw a road in this sketch so I took the Road to Happiness stamp set. I stamped the car and the words and cut both of them out.The road is made with the Designer Series Paper Pack.
Instead of using the stamp included in that set (a bunch of small gifts), I decided to super-size my gift! I used the 1″ Square Punch with the Perfect Polka Dots Designer Series Paper and added the tie with the 1/8″ Taffeta Ribbon.
I added a cloud using the Cupcake Builder Punch and it was done! If you don't mind doing a bit of cutting for the car, this is really a quick and easy card to make!
This card makes me think of road trips. I love road trips and it seems so few of us take those anymore in this day of air travel. So……road trip, anyone?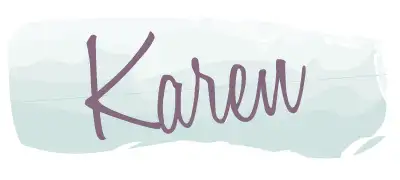 Shop Online | Current Host Code: FQ24ATM7
---
RECEIVE A UNIQUE CARD TUTORIAL EACH WEEK!