A latch keeps these gatefold cards closed.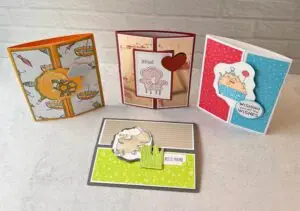 Basic Gatefold Card Step by Step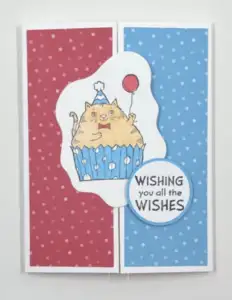 What makes a gatefold card a gatefold is that the sides fold in so that the card opens like a gate.
To make a basic gatefold card this is all you need.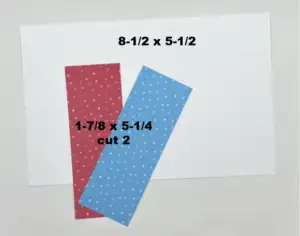 Score the base card at 2-1/8" in from each side. Fold.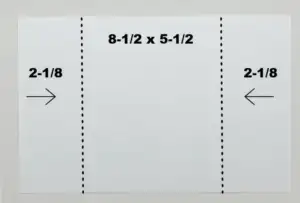 Add the Designer Series Paper strips to the card front.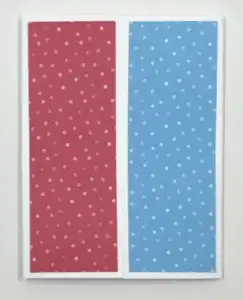 *If you want to add a second layer, cut two pieces of cardstock at 1-7/8" x 5-1/4" and layer on top two pieces of Designer Series Paper cut at 1-3/4" x 5-1/8".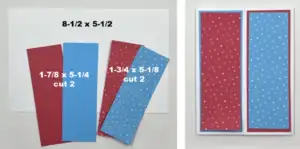 How to Make a Gatefold Latch Card
Adding a latch means adding a little something to keep the card closed. In this card, the fat cat (from the Best Day stamp set) is the accent piece and the latch closure is the sentiment.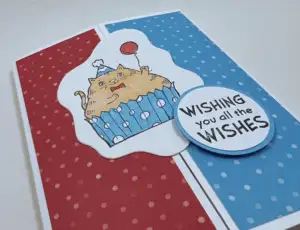 Add your accent piece to the left panel first.
Use dimensionals on the latch piece, making sure to not put them under the part that will hold the tucked under pieces.
Punches always work, but also look at the different pieces in your dies to see what else you can use.
The little cloud latch was cut out, along with the turtle, from the Rain or Shine Designer Series Paper.
*If your latch is made from Designer Series Paper or lightweight white cardstock, it helps to glue that piece on piece of scrap white cardstock and cut that out. It will add strength to the closure.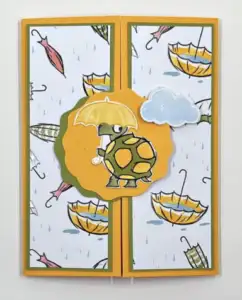 With the Hues of Happiness Designer Series Paper, the red flower on the right is the closure. Dimensionals are added under that flower, being sure to not add them where the other flowers tuck under.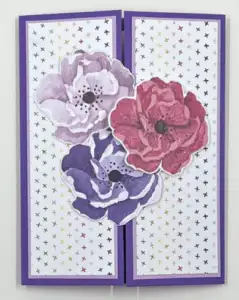 For this card made with the By the Bay Designer Series Paper, notice how the sentiment piece slips right under the stamped image.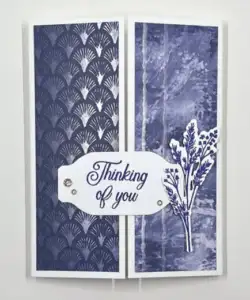 The Radiating Stitches Dies were used for both the heart and the stitched accent piece on this card also using the Sit Stay Relax Host Stamp Set.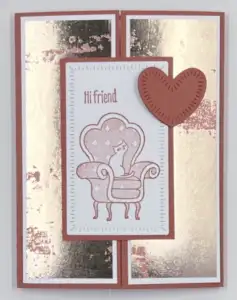 Rotate your gatefold card for a different look!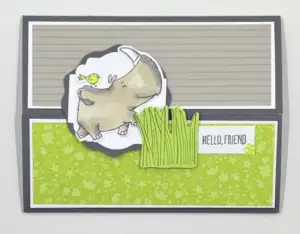 This card is made the very same way as the cards above, just rotated so that it opens like this.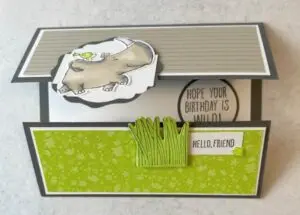 Notice how the grass stamp and dies (from the Rhino Ready Bundle) are used for the closure!
Learn how to make easy Gatefold Latch Cards
This is a replay of a live show so go to 19:59 to see these latch cards being made.
If you enjoyed this card fold, be sure to check out the All Good Cards Club. This month's class is all about Gatefold cards – taking them to the next level!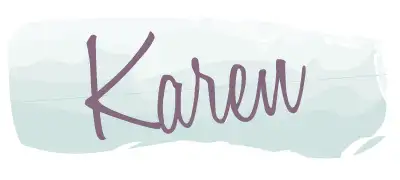 Shop Online | Current Host Code: FQ24ATM7
---
RECEIVE A UNIQUE CARD TUTORIAL EACH WEEK!