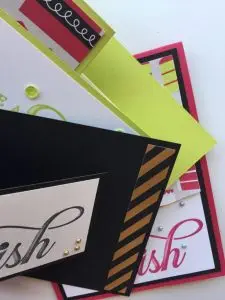 Do you need some birthday cards? Do you want to make multiple cards without the fuss of designing? Do you wish you could just spend time making cards without lots of cutting and measuring? If you answered yes to any of these questions, then join me for a Birthday Stamp A Stack To-Go! When you sign up for the Stamp A Stack, you will get the supplies mailed to you for 9 birthday cards (3 designs) using different papers from the Broadway Bound Specialty Designer Series Paper – so each card will look different. You'll also receive envelopes and a full pack of embellishments!
I will do a Facebook Live completing the cards on Saturday, February 23rd at 4:00 PM central. To complete the cards, I will be suing the Life is Grand stamp set but you can use Broadway Birthday or any larger birthday stamp that you already own. The coordinating ink colors are Lovely Lipstick, Lemon Lime Twist and Memento Black (although you could use Memento for all).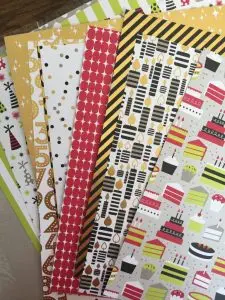 Cost: $30 (includes shipping & full pack of embellishment)
Facebook Live: Saturday, February 23rd, 4:00 PM on Back Porch Stampers (my customer group)
To sign up, use the Buy Now option below. You'll get the Birthday Stamp A Stack kit which includes supplies for 9 cards, envelopes and a full pack of embellishments.
SOLD OUT!
Got questions? Contact us at StampingOnTheBackPorch@gmail.com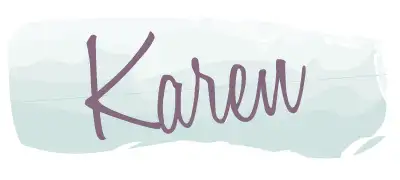 Shop Online | Current Host Code: FQ24ATM7
---
RECEIVE A UNIQUE CARD TUTORIAL EACH WEEK!