Celebrate spring with these easy to make pinwheel cards … or are they quilt cards? They use the same papers so you get to decide!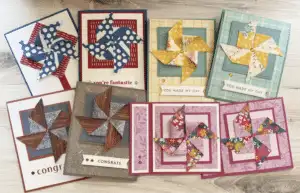 All of these cards use brand new Designer Series Papers form the 2023-24 Stampin' Up! catalog. (If you need the catalog – click here: Free Catalogs from Karen
First I made a stack of the pinwheels and quilt squares.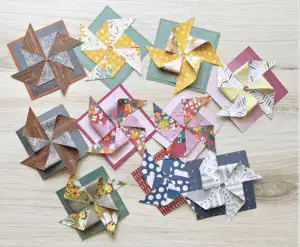 Then it was on to finishing them. Here are both versions with the Earthen Elegance Designer Series Paper.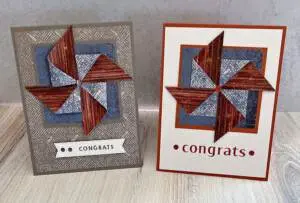 The Inked Botanicals Designer Series Paper has such a fun color palette.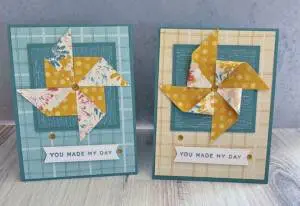 This card made with the Regals Designer Series Paper makes me think of the Fourth of July.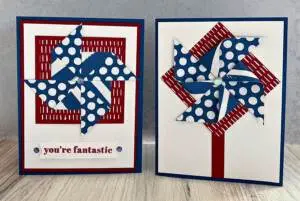 The book binding fold is perfect for these cards. These lovely patterns are from the Masterfully Made Designer Series Paper.
(Click here to get the instructions for the book binding fold.)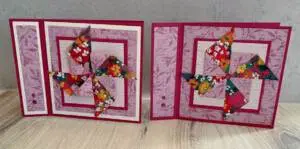 Do you see the difference between the quilt fold and the pinwheel fold?
Here is the basic pinwheel card with no additional layering. It uses the Countryside Inn Designer Series Paper.
Supplies for either the pinwheel card or quilt card: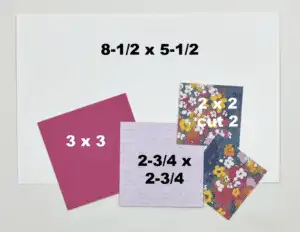 Cut the two 2″ squares from one corner to the opposite like this.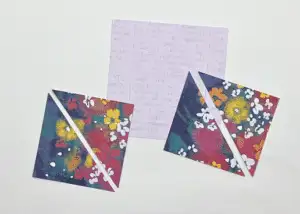 Take each triangle and add adhesive on just one end. Curve the end over to attach to the bottom corner of the triangle like this.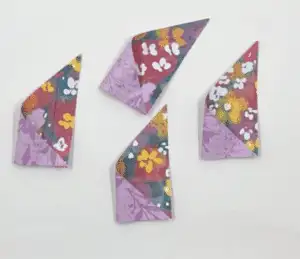 Fold the 2-3/4″ square in half both ways.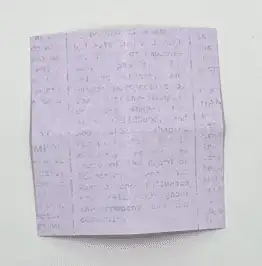 Layer this on the 3″ square.
Add adhesive to the long edges of the four pieces and attach them to the larger square, using the folded lines as a guide.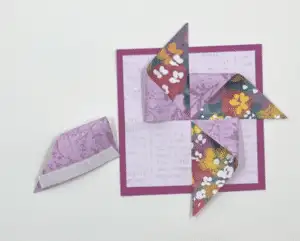 That is it. You can attach it just like this to the card base.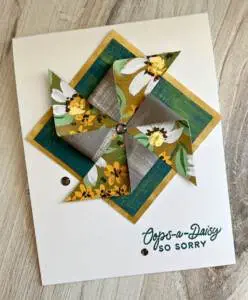 You can always add a 4″ x 5-1/4″ layer on your base card to add even more interest to your card.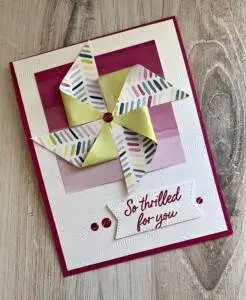 So … what do you do to change this pinwheel card into a quilt card?
Just add adhesive and fold the paper flat! That's all!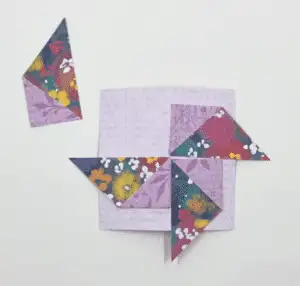 The pinwheel card is on the left and the quilt card is on the right. Which do you prefer?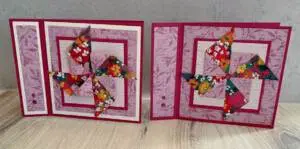 This is a replay of a live video so go to 12:49 to see these cards being made.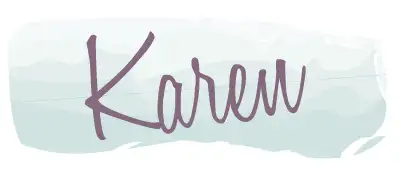 Shop Online | Current Host Code: FQ24ATM7
---
RECEIVE A UNIQUE CARD TUTORIAL EACH WEEK!