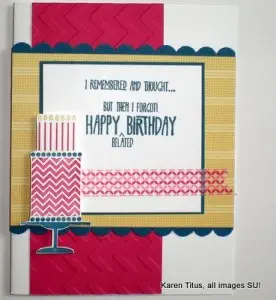 Remembering Your Birthday with this Birthday Cake card.
When I saw these words on the Remembering Your Birthday stamp set, I knew I needed that set. I am famous for forgetting birthdays…..just ask anyone in my family. But then, I am an equal opportunity forgetter…. I scheduled an out of town Stampin' Up! party on my 50th birthday without even realizing it was my birthday! (Tim was not too happy about that!)
I will explain the details of this card after I show you the Mojo Monday sketch that inspired me!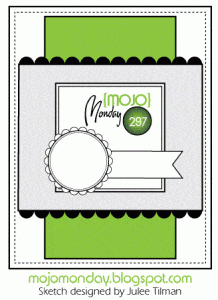 Mojo Monday 297
On my card I used the Birthday Cake stamp set colored in Melon Mambo, Island Indigo, and Daffodil Delight, and then cut out. The other supplies used were the Gingham Garden Designer Series Paper, the Gingham Garden Designer Washi Tape, and the Scallop Edge Border Punch.
If you are like me, you love to have choices for words when you make birthday cards. After all, we find ourselves making birthday cards often. This set has eight stamps, with four sets of two that can go together. You can use them both on the front of the card like I did today, or on the inside, or put one on the outside and the second part on the inside. We stampers like choices!
Whether you have trouble remember birthdays or not, the Remembering Your Birthday stamp set will give you plenty of options! Check out these sets and much more at my online store!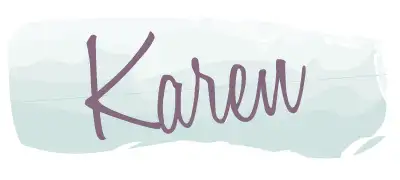 Shop Online | Current Host Code: FQ24ATM7
---
RECEIVE A UNIQUE CARD TUTORIAL EACH WEEK!